STGC's Hykel Nunes awarded the Rodwell Lake Scholarship
STGC's Hykel Nunes awarded the Burger King Rodwell Lake Scholarship Sixth Former Hykel Nunes was delighted when he heard that he was awarded the Burger King Rodwell Lake Scholarship valued at $300,000 per year for three years to study Journalism at UWI. 
Hailing from the East Kingston community of Dunkirk, Hykel had excelled from the start to end of his stay at STGC in May 2017 He had his challenges as the death of his sick father made his situation very difficult. But the determination and strength of his mother, the lone bread winner in his family sacrificed a lot to support her son as he progressed through the ranks in school. He expressed eternal gratitude and love for her. 
It was a similar story for the other recipients of the Burger King Scholarships. Again mothers featured strongly in the story of the other recipients. 
The other recipients were as follows: Lois Sherwood Scholarship: Tessan Stewart , St. Andrew High School Open Tertiary Scholarship: Akeen Neil, Jamaica College Edna Manley Bursary: Sasheina Williams.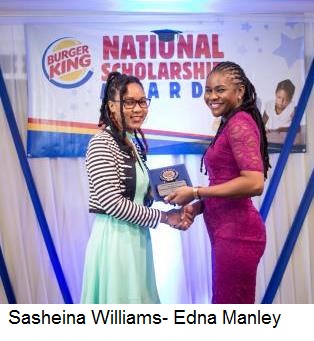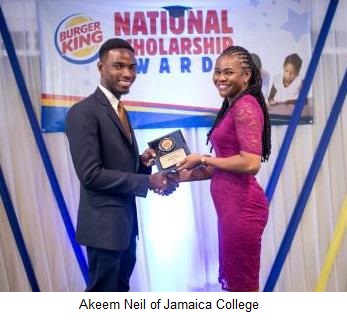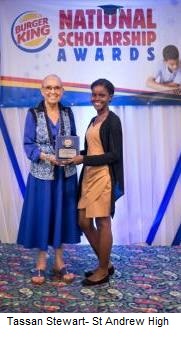 As a result of a combined $2.2 million courtesy of the Burger King Scholarship Programme, four youngsters in pursuit of tertiary credentials have vowed to rise above ...
Last modified on
Tuesday, 12 September 2017 13:24